Ukrainian embroidery
Submitted by

Editor

on Thu, 11/24/2016 - 14:23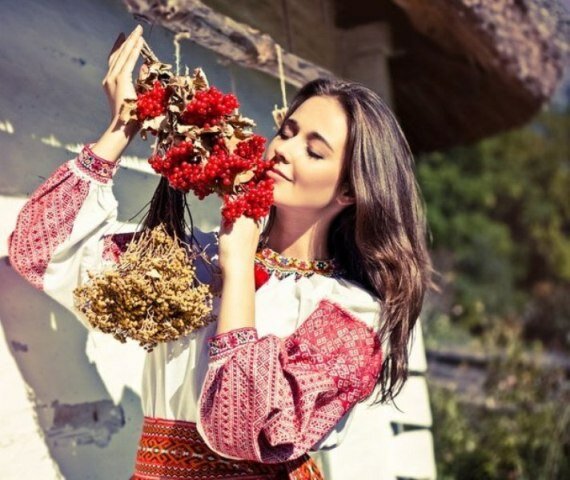 Every single country has its own history, culture, traditions and symbols.
Ukrainian embroidery, 'vyshyvka' in Ukrainian, is an expression of Ukrainian people. It is a symbol of values, traditions, culture and history of Ukrainian people. But besides that the Vyshyvka is a very popular trend over the world.
The story of Ukrainian embroidery goes by centuries. According to some scientists, even the Scythians' cloth was decorated by Vvyshyvkas.
From the old times women have been occupied with embroidery, passing the famous samples of ornament, colors and technology through centuries. The Vyshyvka, showing some characteristic futures of the area, varies by the ornament and color range. There is a rich color range; normally red color is combined with the black color, white color is combined with the different colors.
Each Ukrainian region has its own way of embroidering. For example, vyshyvkas in Poltava regions are made in white color, only sometimes in green or red colors. Vyshyvkas in Ternopil' region are famous, because sleeves of the embroidered shirt, also known as 'vysyvanka',  are decorated in black and red colors.
The Vyshyvka was used as a decoration for towels, table centers, bed cloths, men and women's shirts. Ukrainian people have been paying the most intention to the towel ornamentation, because towel is an old amulet for the house and for the family. Also the embroidered towels have been an important part of different traditional rituals such as meeting guests, wedding rituals and others. It is a symbol of new life for married couple. An embroidered towel is also a symbol, which connect us with our ancestors and do not let us to forget our history. The Vyshyvanka is usually embroidered around the sleeves and the neck. It is believed that the chest embroidery protects the human soul from destruction, decay and death, and that the shoulder embroidery, particularly on male wear, defends against enemies and empowers the wearer. Females also tend to have an embroidered apron. Furthermore, girls start to embroider Vyshyvankas from youth as dowry in preparation for their marriage. According to the tradition, a girl should make a Vyshyvanka for her future husband.

Ukrainian vyshyvkas didn't lose its importance. Nowadays, for example, not even one Ukrainian wedding is celebrated without an embroidered towel. The baby cloth for baptism is decorated by the Vyshyvka. And the embroidered framed pictures are very popular as a wall decoration for the house. A shirt or a blouse, embroidered in different colors and motives, would be a nice piece for everyone's wardrobe, because the ethnic themes never go out of style.
Now, many years after Ukraine declared independence, embroidered items are making their way into everyday life, decorating a range of items, including socks, caps, belts, book convers etc. Vyshyvanka, especially the hand-made one, has become a valuable gift all over the world.
Vyshyvanka is also a national cloth in Ukraine. In color embroidery has a lot of secret characters. In the black shirts are usually dressed up dead. Black patterns are bad energy and symbolize grief from the loss of a loved one. Vyshyvankas in white color symbolize the natural beauty and serve as a protection against evil forces. Red means good and a sign of good luck and protection. Green on Vyshyvanka is a symbol of birth and growth. Yellow color symbolizes the sun, as the energy of all life on earth.
Now Ukraine celebrates the Embroidery Day every year. This holiday is held on the 19th of May. Ukraine's Embroidery Day is unofficial and relatively new national holiday, designed for promoting unity and cultural revival of al multinational Ukrainian people.
The first Day of Vyshyvanka took place in 2007 when several dozens of students of Chernivtsi National University come to university in Ukrainian ethnic embroidered shirts. In course of the following years festival reached nationwide level. Ukrainian diaspora and supporters of Ukraine from all over the world joined as well. On this day there are different festivals in almost every city in Ukraine, where we can found the most amazing motives of Ukrainian embroidery, which has many variations from region to region, from village to village.
Katia Slavska