Donbas National Academy of Civil Engineering and Architecture
Submitted by

Editor

on Thu, 03/15/2018 - 13:45
HEE address: 
Heroiv Nebesnoi Sotni str., 14, Kramatorsk, Donetsk region, Ukraine, 84333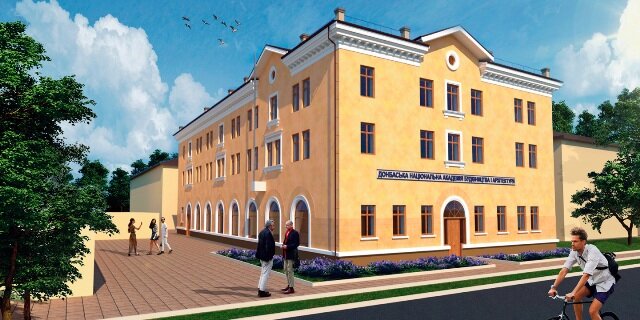 Donbas National Academy of Civil Engineering and Architecture (DonNACEA) is a state technical higher educational institution in the east of Ukraine. DonNACEA is the only university in Donetsk and Luhansk Regions which for over 60 years has been training students in the fields of Civil Engineering, Architecture, Urban Construction and Planning, City Economy, Mechanical Engineering, Road and Aerodrome Construction, Engineering Networks, Environmental Engineering, Economics and Management in Construction Industry.
DonNACEA was founded on January 1, 1972 in Makiivka. Since 1999 our study programmes for Bachelor's and Master's degrees in Industrial and Civil Engineering, Architecture, City Construction and City Economy, Automobile roads and Aerodromes have been accredited by the Joint Board of Moderators (JBM, Great Britain), the Institution of Civil Engineers ICE (UK), the Institution of Structural Engineers and International Education Society. DonNACEA is also a member of the Association of European Civil Engineering Faculties (AECEF). The Academy is the only university in Ukraine, which underwent the procedure of professional international accreditation.
Since December 2014, DonNACEA has been temporary displaced from the city of Makiivka to Kramatorsk. The relocation was caused by the conflict in the East of Ukraine (Makiivka is now controlled by the so-called "Donetsk People's Republic").
The Academy has prepared close to 40,000 engineers and architects, among those over 500 are foreign students. Unfortunately the admission of foreign students has been temporary suspended due to the situation caused by the relocation. The process of renewal is underway.
Now DonNACEA has its own facilities in Kramatorsk, as well as rented premises in Kramatorsk Regional Technical School of Construction. As its structural subdivision DonNACEA has Druzhkivka Housing and Communal College (Druzhkivka is a city 15 kilometers away from Kramatorsk) where all the libraries, laboratories and specially equipped classes are located. Together with the college currently there are approximately 1000 students and 120 teaching and supporting staff in the university.
Since 2015 DonNACEA has been participating in creation, promotion and implementation of dual educational process. We clearly understand that graduates from technical universities should have special technical experience. Therefore, we intensively introduce elements of practical preparation into our special courses based on theoretical knowledge. We are looking for and proposing the ways of students' adaptation for real labor market demands, which increases their career prospects and employment potential. Currently we intensively implement (and propose for mutual development) special elements of professional practical preparation in our new courses in the field of Civil Engineering and Mechanical Engineering to bring them in accordance with relevant standards of the EU.
Since 2016 in the frames of TEMPUS ERASMUS+ program and RETHINK project, DonNACEA have been training students for obtaining Double Master's Degree in Civil Engineering – Building Construction / Master's in Civil Engineering on the basis of the agreement between DonNACEA and Polytechnic Institute of Leiria (Portugal). Also Double Degree Program Agreements in the fields of Environmental Engineering, Architecture and Urbanism between DonNACEA and other universities in Portugal and Spain are presently under development.
Our areas of training (specialities).
Construction (specialities: Civil Engineering; City Construction and City Economy; Technology of constructional materials and products; Automobile roads and aerodromes construction; Heat, gas supply and ventilation; Water Supply and Sewerage);
Architecture and Urbanism (specialities: Architecture; Urbanism)
Management;
Economics of Enterprises;
Environmental Engineering;
Branch Mechanics (specialities: Design of lifting, transporting, building and road machines; Operation of lifting, transporting, building and road machines)
Surveying and land planning
Automobiles and automobiles' economy
The duration of Bachelor's degree study program is 8 semesters (240 ECTS credits)and for MSc level (on the basis of Bachelor's degree) is 3 semesters (educational level – 90 ECTS credits) or 4 semesters (researcher's level – 120 ECTS credits). All training is on the condition of an individual contract.
About student campus: 
Donbas National Academy of Civil Engineering and Architecture has its own five-storey dormitory which accommodates 380 people. On the rights of joint use with Kramatorsk Regional Technical School of Construction the Academy has at its disposal sports facilities, libraries and workshops.  We are currently working to increase and upgrade the existing technical and material basis.  In the main building there is also a modern canteen which provides meals at reasonable prices and Wi-Fi Internet access. 
Preparatory courses for foreigners: 
Admission board contact information : 
Heroiv Nebesnoi Sotni str., 14, Kramatorsk, Donetsk region, Ukraine, 84333; Phone: +38 (095) 084-17-86; E-mail:
[email protected]
; Web: http://donnaba.edu.ua/vstup/admissions
Centre for post graduate/doctoral training : 
Teaching in English language: 
Fields of education: 
Architecture and town planning
Automobile transport
Building and civil engineering
Ecology
Economics
Geodesics and land surveying
Industrial engineering
Management